Bellingham Physical Therapy employs skilled clinicians whose primary interest is giving each client the best possible physical therapy experience. We love our work and are interesting individuals too.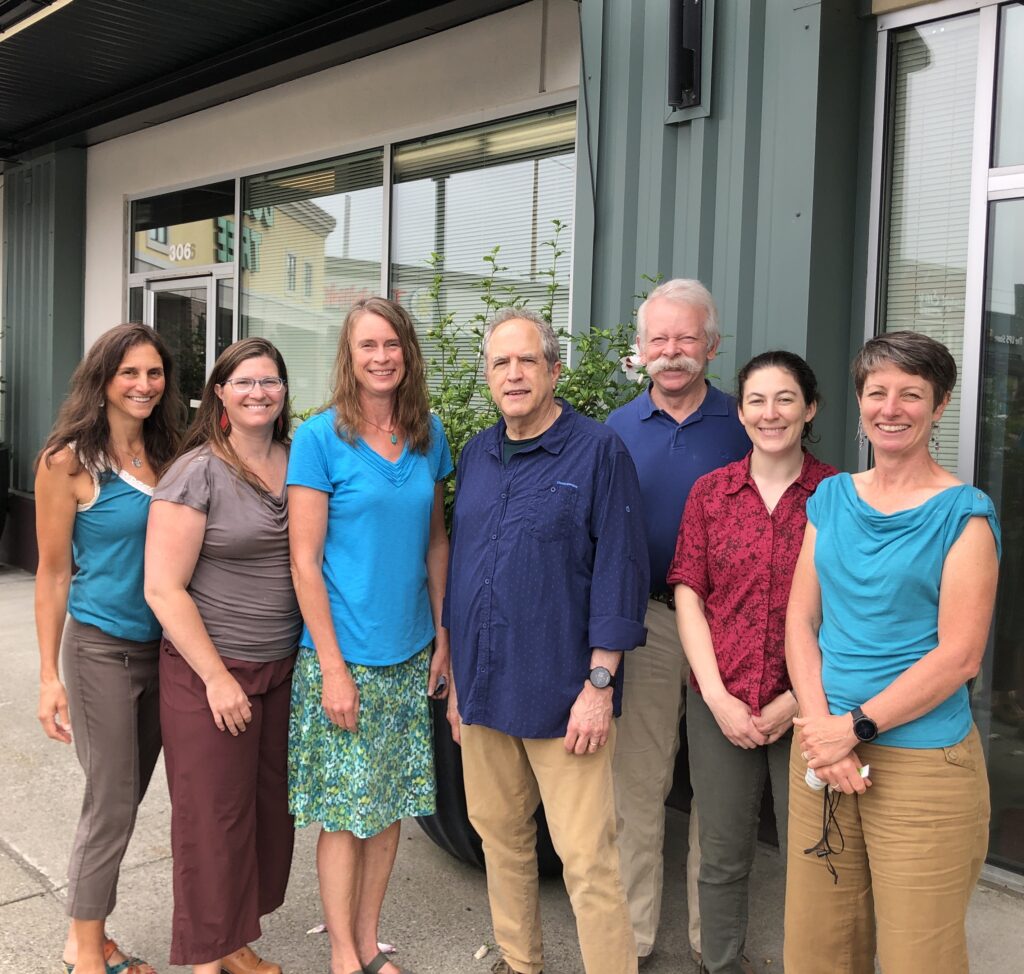 Physical therapists are licensed through the state of Washington. They must have a minimum baccalaureate degree in physical therapy from a board approved school and pass a national board exam to meet licensure requirements. They must complete 40 hours of continuing education every two years to retain licensure, a requirement that our therapists usually far exceed. All of our physical therapists are members of the American Physical Therapy Association (APTA) and the Physical Therapy Association of Washington (PTWA). It is the vision of the APTA that "by 2020, physical therapy will be provided by physical therapists who are doctors of physical therapy". In response, physical therapy schools have been transitioning to an entry level doctorate program, and a majority of recent graduates now possess a DPT degree.
Physical therapist assistants (PTA) graduate with an associate's degree from an accredited 1 ½ to 2 year program. Legislation was passed in Washington State that requires PTA's to be licensed. They assist in carrying out the plan of care that is established by the physical therapist. The physical therapist is always responsible for evaluation, assessment, and progression of the plan of care.
Massage therapists (LMT) are licensed in Washington through the Department of Health. Practitioners must complete a course of study at a Board of Massage approved program that is a minimum of 500 hours of training to include 90 hours of anatomy and physiology, 50 hours of pathology and 40 hours of kinesiology. Sixteen credits of continuing education are required every two years. At Bellingham Physical Therapy, the massage therapist works in conjunction with the physical therapist, and is insurance dependent.
We also employ physical therapy aides that are trained on the job to assist with application of modalities, and keep our treatment rooms and clinic clean. They work under the direction of the physical therapist.
Kris graduated from the University of Montana in 1989 with a Bachelor of Science in Physical Therapy. Prior to this, she attended Montana State University from 1983 to 1987, where she was majoring in physical education with a sports medicine option.
Kris began her physical therapy career in Bellingham at St. Joseph Hospital, rotating through all rehab settings, working with both neurologic and orthopedic patients. After working for a home health agency and an orthopedic clinic, Kris joined the team at Bellingham Physical Therapy in 1998. She has been a member of the American Physical Therapy Association since 1987. She earned a clinical specialization certification in orthopedic physical therapy (OCS) from the American Board of Physical Therapy Specialties in 2009.
Variety is the spice of work for Kris, and she enjoys treating a wide range of patients with orthopedic issues. She uses an integrated, holistic approach to create a course of treatment that addresses the needs of each individual. She combines manual therapy techniques with therapeutic exercise and works with optimizing movement patterns. She loves helping a person find the tools for self-management of symptoms, enabling them to play an active role in their rehab process.
Kris' continuing education includes a variety of specialized manual therapy techniques; osteopathic muscle energy technique, Jones Strain Counterstrain, Maitland spinal and peripheral joint mobilization, and Manual Ligament Therapy. Her coursework encompasses Sahrmann muscle imbalances and movement disorders, classes with Diane Lee and L.J. Lee on the lumbo-pelvic-hip and the thorax-shoulder complexes, geriatric orthopedics, courses specific to the spine and pelvic girdle, running mechanics and injury rehabilitation, and KinesioTaping. Most recently, she completed The Barral Institute's Visceral Mobilization series. Kris is a student of Iyengar Yoga, and delights in integrating the "gems of yoga wisdom" into her physical therapy practice.
Growing up in Alaska, Kris developed a love for outdoor activity in all seasons. She now finds happiness sharing outdoor pursuits with her husband Dean and son Devon in this beautiful corner of the PNW, from the mountains to the saltwater. Her passions include gardening, running, cross-country skiing, sea kayaking, hiking, and backpacking. Motherhood is a bright spark in her life.
Clare M Jones, PT, OCS, COMT, CFMT, FAAOMPT
Clare graduated with a Bachelor of Applied Science in Physiotherapy from LaTrobe University, Melbourne  Australia in 1991. She joined the team at Bellingham Physical Therapy in September 2003.
Clare is a Board Certified Orthopedic Clinical Specialist (OCS) with the American Physical Therapy Association. She is also a Fellow with the American Academy of Orthopedic Manual Physical Therapy (FAAOMPT).
Clare has pursued advanced training in manual therapy skills, achieving certifications from Maitland Australian Physiotherapy seminars -Certified Orthopedic Manual Therapist (COMT), and a Certified Functional Manual Therapist (CFMT) with the Institute of Physical Art. She has just completed a year-long course with LJ Lee in Canada and has become a graduate of the Connect Therapy Approach, furthering her goal to look at the patients system as a whole and find the best/most appropriate area to treat.
Clare's approach to treatment is to use movement and palpation to analyze imbalances that people may have developed in their systems. She attempts to find the root cause of the presenting problem as well as relieve the symptoms currently causing a person to seek help from a therapist. Hers is a patient-centered approach, with the patient taking an active role in his or her care. She uses a blend of manual, hands-on techniques to restore balanced symmetrical motions. Exercise and neuromuscular education is incorporated to restore the control of mobility, and in doing so, potentially prevent future issues. Her goal is to reduce the strains and stresses in the human system as a whole and improve overall efficiency of motion. Clare has a particular interest in pain science and the close relationship of the body and mind. No issue happens in isolation.
Clare is an educator, and senior faculty member with Maitland Australian Physiotherapy Seminars since 1998. She mentors fellows in training- therapists seeking to become Fellows of the American Academy of Orthopedic Physical Therapy. She has presented at physical therapy conferences around the USA. She attends manual therapy conferences and courses regularly to stay current and involved.
On weekends you will find Clare and her husband Steve exploring the trails of the beautiful Pacific Northwest whether it be day hiking, backpacking, skiing, snowshoeing or mountaineering.
Life is an adventure, not a guided tour.
Heather Kreizenbeck, PT, MPT
Heather graduated with a Bachelor of Science in Biology with minors in Chemistry & Psychology from the University of Denver in 1998. She earned a Master of Physical Therapy from Idaho State University in 2001. She then moved from Idaho to Washington and joined the team at Bellingham Physical Therapy in 2001. In 2008, Heather earned clinical specialist certification in Orthopedics from the American Board of Physical Therapy Specialties.
Heather enjoys helping patients with all types of orthopedic complaints improve their health and function through individualized treatment. She thrives on discovering and addressing the root cause of each patient's symptoms, educating and empowering them to create change in their own bodies, and facilitating change through therapeutic touch. She has taken a variety of continuing education courses including joint, soft tissue, neural system and visceral mobilization techniques, analysis and restoration of movement systems, and running rehabilitation. Her most recent focus in training is Diane Lee's Integrated Systems Model.
In addition to her clinical practice, Heather has instructed in the Physical Therapist Assistant Program at Whatcom Community College. She is an American Physical Therapy Association certified clinical instructor for physical therapy and physical therapist assistant students. Heather has also performed injury prevention screenings for runners and walkers at Fairhaven Runners. She is a member of the American Physical Therapy Association, and presented research at their Combined Sections meeting in San Antonio, Texas in 2001.
Heather's first love is being outdoors. She is happiest skiing down snowy slopes, riding her bike, or playing with her dog Charlie. She enjoys hiking, sailing, camping, swimming, reading, and spending time with her husband, friends and family.
Coty graduated with a degree in Physical Therapy from the University of Puget Sound in 2019, and is happy to join a manual therapy and community oriented clinic.
Prior to physical therapy, she worked as a professional musician, and her experience in that field led her to her interest in treating musician-related injuries. In addition, special interests include working with patients needing post-surgical rehab as well as balance/fall prevention training, for which she is certified in the Otago Exercise Program targeting falls prevention. She is also certified in Advanced Kinesiology Taping with RockTape. 
When not working, Coty enjoys hiking, skiing, playing music, and going on bicycle tours. She has ridden across the United States from Virginia to Seattle and most recently completed a bike trip from Paris to Rome. 
I graduated in 1975 with a masters degree in physical therapy from Stanford University.  Marcia and I opened Bellingham Physical Therapy in 1981. This is a great practice and I am very fortunate to work with other very talented therapists.
I volunteer twice a week in the Squalicum High School Training room and have done so since it opened. Prior to this, I assisted at Bellingham High School. I volunteer at Bellingham's youth soccer tournaments in the summer helping out in the medical services tent. I also help at our local rugby tournaments. It is important to support the community in which we live. I am indeed fortunate to have these opportunities.
In my 40 plus years as a therapist, I direct myself to listening to my clients. My courses of study tend to focus on the whole system and its responses to life (and whatever life throws at you).  I study movement based on dynamic stability (Yoga, Tai Chi, Feldenkrais), fascia systems, lymph mobility, joint and neural mobility. I am a proponent of finding the cause not merely treating the symptoms. Recognizing that each of us arrives at our current point, with a variety of experiences which shapes our individual responses, treatment is person specific.
Outside of Bellingham Physical Therapy, which my lovely wife Marcia and I run, my life is filled with reading, camping, grand kids, gardening, ambling and enjoying the journey. Often times, we are accompanied by our two grown children (Brittany and Mark) in this journey.
Find your passion and enjoy life. Become involved.
D
arryl received a BS in physical therapy from Hogeschool van Amsterdam, NL in 2000. Afterwards, he spent 4 years in a home health practice and then switched to outpatient.
He has completed certification of Orthopedic Movement Specialist with Gordon Brown's Therapeutic Movement Seminars in 2014. He is attending the Neural Manipulation series from the Barrallnstitute and Chikly Health Institute curricula of lymphatic drainage therapy.
Darryl began working at Bellingham Physical Therapy in 2010. Darryl has used SCENAR therapy protocols for pain and movement for 7 years after training with RITM SCENAR Institute, SCENAR Health USA, and SCENAR USA. He incorporates Tai Chi for fall prevention and balance improvement with static and dynamic movements.
Prior to a career in PT, Darryl worked for over 25 years in film production and commercial photography. He enjoys cross-country skiing and hiking with his wife Lori. He is finding challenge in riding the Slackline.
Stacey graduated from University of Montana in 2000 with a Masters of Science in Physical Therapy. She earned her Bachelor of Arts in Environmental Studies at the University of California Santa Barbara in 1991. In the years between her undergraduate and graduate degree, Stacey spent several winters in Utah and Montana working and skiing at ski resorts.
She moved to Bellingham in 2000 and worked in an outpatient orthopedic clinic where she developed a Balance and Falls Prevention program. She was hired by Bellingham Physical Therapy in 2006 and has enjoyed working there ever since.
Stacey has augmented her physical therapy education with a variety of continuing education courses that include several manual techniques such as Jones Strain Counterstrain, trigger point release, Mulligan Mobilizations, Manual Ligament Therapy and John F. Barnes Myofascial Release Technique.  She combines this with knowledge gained from courses in muscle imbalance and and movement disorders taught by Carrie Hall, McConnell Institute, Mckenzie Institute and Dianne Lee in order to decrease pain and improve function and performance.
Stacey has also taken several courses in balance and falls prevention and is trained in treating BPPV and other vestibular disorders. Her most recent passion is incorporating John F. Barnes Myofascial Release techniques into her treatments. She has completed nine John F. Barnes Myofascial Release courses in the last 4 years and finds this whole body approach fascinating and effective.
Whether she is helping a young athlete to return to their sport or maximizing the independence and safety of the elderly, Stacey enjoys teaching patients to treat themselves and prevent future injuries. She encourages them to take an active role in their recovery.
When she is not working Stacey enjoys mountain biking, hiking, swimming and skiing. She shares these activities with friends and with her husband Kurt as well as with her two children Ke'ala and Zxavian. 
Rene' has been with Bellingham Physical Therapy since 2006. She has a passion for manual therapy. Her skills include Maitland spine and joint mobilization and extensive soft tissue experience. Her interest in Barra] Visceral Manipulation therapies has provided her with further training for the treatment of the abdomen, pelvis, and thorax.
As an avid runner, she has taken several running courses. She is a certified Pilates instructor and teaches strength classes for runners.
Rene' finds great joy while running the many trails around town, taking a variety of movement classes, and spending time with her husband, children, and grandchildren.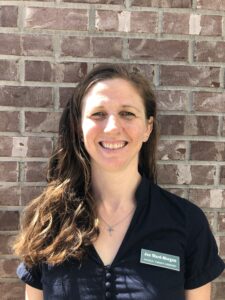 Jen rejoins the Bellingham Physical Therapy team in 2021 as a Physical Therapist Assistant. She graduated with an Exercise Science degree, emphasis on Exercise Physiology, from Pacific University in Forest Grove, OR in 2007. She graduated from Whatcom Community College Physical Therapist Assistant program in 2011 and started working in the Skagit Valley developing her Craniosacral and Myofascial Release manual skills. Jen completed her Orthopedic Movement Specialist certification through Gordon Browne's Therapeutic Movement Seminars in 2016. 
Jen as a passion for combining her manual skills with her ability to help others rediscover movement patterns or postures they may have thought weren't possible again. She quickly fell in love with teaching and supporting patients learn about how their bodies moved, to better manage their own dysfunctions. Nothing in the body works in isolation so treatment needs to have a holistic approach and a patient must be involved in caring for their own being. She loves to listen to a person's body guide a treatment session to unlock the next stage of healing and restoration of movement. Jen believes that no movement is impossible at any age, it just hasn't been unlocked yet. Whatever activities you enjoy she wants to help you get back those and not be focused on pain or limitations that made you seek care in the first place. 
In her free time you can find Jen exploring new activities and enjoying time with her husband, son, and dog. She loves to travel and experience new foods. 
Jenny started with Bellingham Physical Therapy in Jan 2020. She has 15 years of experience as a Licensed Massage Therapist. After a Bachelor of Science degree from Oregon State University, a Master of Arts in Theology from Regent College (Vancouver, BC), and exploring many avenues related to healthcare and ministry, she decided to pursue massage therapy and combine her interests of both science and art. Since graduating from Brian Utting School of Massage in Seattle, her primary practice has been in medical massage with an emphasis on deep tissue, injury treatment, and now primarily, structural integration. She has worked with a wide range of clientele (to include athletes, builders, fitness instructors, medical and office personnel, professional dancers, teachers, and young people) with a wide range of conditions (post-surgical, MVA, work injury, chronic pain, training for athletic performance, headache and TMJ disorders). The approach she has in her practice is to consider a person's current symptoms or concerns in light of their larger "story," and to come alongside them, helping them make discoveries and connections in order to gain greater understanding, insight and awareness in their body, and live life more freely.
As a life-long learner she has continued to grow as a practitioner through her experiences working in medical massage, PT and chiropractic clinics, working with the Pacific Northwest Ballet dancers, and beginning her own practice and business working alongside other exceptional colleagues. She has continued her education with various courses and trainings including sports massage, craniosacral therapy and structural injury work. Most recently, she will be finishing an Orthopedic Movement Certification with Therapeutic Movement Seminars (Gordon Browne, PT) in October. One of the biggest impacts on her learning and practice came when she completed the professional certification in structural integrator with Tom Myers', Anatomy Trains Structural Integration (www.anatomytrains.com) in 2011.
When she is not working with clients or managing her business, she loves getting outside for a hike, run, walk or bike ride, and occasionally playing soccer. She loves movement practices like Yoga, Tai Chi and Qi Gong. She also continues her education in other ways especially when it comes to theological, biblical and spiritual formation practices and was certified as a Spiritual Director. Artwork, novice gardening, and traveling to see her family and friends in various places of the country and world is another thing you'll often find her doing.
Education
Orhopedic Movement Specialist Certification, Bellevue, WA, Therapeutic Movement Seminars, (in  process)
Anatomy Trains SI, Seattle, WA, AT-Structural Integration 500 hour professional certification, Dec 2011
Pat O'Rourke, Seattle, WA, Structural Injury Work Series/Certification, Sept 2009-June 2010
Pat O'Rourke, Matthew Sorlie, Cortiva Institute-Brian Utting School of Massage, Seattle, WA, Craniosacral Certification, January 2009
Cortiva Institute—Brian Utting School of Massage, Seattle, WA, 1000 hour massage licensing program, COMTA accredited, Dec 2006
Regent College, Vancouver, British Columbia, Master of Arts in Theology-Biblical Languages, April 2004
Oregon State University, Corvallis, Oregon, Bachelor of Science-Zoology, June 1994